இஸ்லாமிய தமிழ்ப் பண்பாட்டு ஆய்வு மையம்
---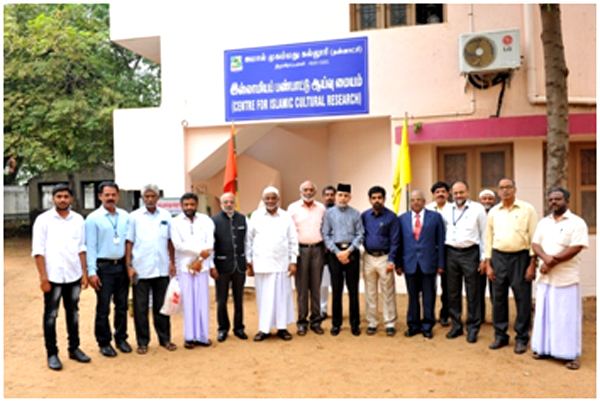 The Centre for Islamic Tamil Cultural Research was inaugurated on Thursday the 21st December 2017. The aim of the Centre is to bring out an authentic history of achievements of Muslims in Tamil Nadu. The research will be focussed on the various aspects of their history and culture, such as spread of Islam, folklore, customs and practices, literary contribution, art and architecture, role in the India freedom struggle, maritime trade, religious harmony etc...
Dr. S. Ismail Mohideen, Principal, presided over the function and welcomed the gathering, Haji. D. M. Jabarullah, Founder, Anjuman Arivagam, Ayyampet, inaugurated the centre. Dr.A.K.Khaja Nazeemudeen, Secretary and Correspondent, Haji.M.J.Jamal Mohamed, Treasurer, Dr.K.Abdus Samad, Assistant Secretary, Haji.K.A.Khaleel Ahamed, Former Treasurer, Thiru S.N.M. Ubaiyadullah, Former Minister and President, Muthamil Mandram, Thanjavur and Prof.K.M. Khadar Mohideen, National President of Indian Union Muslim League offered felicitation.
DR. Bakthavachala Bharathi, Director, Linguistic and Cultural Research Centre, Pondicherry delivered the keynote address.
DR.J. Raja Mohamad, Former Assistant Director, Department of Museums, Tamil Nadu and the Director designate of the Centre delivered a lecture on the proposed research themes.
Dr. A. Mohamed Ibraheem, Vice-Principal proposed vote of thanks. Scholars, Alumni, well-wishers, members of teaching staff and students attended the meeting in large numbers.
CICR declared open by Haji.D.M.Jabarullah

The guests on the dias

The Principal delivers the presidential address

The Secretary and Correspondent is Honoring Prof.K.M.K.,
the IUML President

Janab.S.N.M.Ubayadullah, former Minister of Tamilnadu
is being honoured by theTreasurer

Bakthavatchala Bharathi, eminent Anthropologist
delivers keynote address

Dr.J.Raja Mohamad, the Director of CICR Address the Gathering

A Section of the Audience
ஆய்வு நிகழ்த்தப் பெறும் பொருண்மைகள்
---
☘ ஹாஜி. ஜமால் முகம்மது சாஹிப், ஜனாப். காஜாமியான் ராவுத்தர் ஆகியோர்களின் சமூக, பொருளாதார, கல்வி மற்றும் பிற அரிய பணிகள்.
☘ தமிழகத்தில் இஸ்லாம் சமயத்தின் தோற்றம், அறிமுகம் மற்றும் சமூக அமைப்பு.
☘ இஸ்லாமியத் தமிழிலக்கியங்கள்.
☘ தமிழக முஸ்லிம்களின் நாட்டுப்புறவியல்.
☘ தமிழகத்தில் இஸ்லாமியக் கட்டடக்கலை.
☘ தமிழக முஸ்லிம்களின் வணிகம் மற்றும் கடல் வணிக வரலாறு.
☘ இஸ்லாமிய ஆட்சியாளர்கள் மற்றும் ஆங்கிலேயர்களின் நிர்வாகத்தில் தமிழக முஸ்லிம்களின் நிலை.
☘ முஸ்லிம்களின் கல்வி வளர்ச்சி வரலாறு.
☘ இந்திய சுதந்திரப் போராட்டத்தில் தமிழக முஸ்லிம்களின் பங்களிப்பு.
☘ சமய நல்லிணக்கம்.
☘ தமிழக முஸ்லிம்களின் புலம் பெயர்வு வரலாறு.
நடவடிக்கைகளின் புகைப்படங்கள்
---
ஆய்வு மைய உறுப்பினர்கள்
---
பெயர் மற்றும் பதவி

முனைவர் ஜெ. ராஜா முகமது
இயக்குநர், இஸ்லாமிய தமிழ்ப் பண்பாட்டு ஆய்வு மையம்
B.Sc., M.A (His), M.A (Arch), M.A. (Anth), BGL., Ph.D.,

திரு. கா. முகமது இஸ்மாயில்
ஒருங்கிணைப்பாளர், இஸ்லாமிய தமிழ்ப் பண்பாட்டு ஆய்வு மையம்
இணைப்பேராசிரியர், தமிழாய்வுத்துறை
M.A., M.Phil., NET., M.Sc. (Psy).,

திரு. அ. ஜவஹர் பாஷா
உதவி ஆய்வாளர், இஸ்லாமிய தமிழ்ப் பண்பாட்டு ஆய்வு மையம்
இணைப்பேராசிரியர், தமிழாய்வுத்துறை
B.Sc (Maths), M.A. (Tamil).,
நூல் வெளியீடு
---
வரிசை எண்

புத்தகம் பெயர்

பதிவிறக்க

1

தமிழகத்தில் இஸ்லாம் வந்ததும், வளர்ந்ததும், வாழ்வதும் வரலாறு தொகுதி-1

பக்கங்கள் : 174

விலை : 75/-

2

தமிழகத்தில் மாலிக்காபூர் வரலாறும் திரிபுகளும்

பக்கங்கள் : 76

விலை : 70/-

3

இந்திய சுதந்திரப் போராட்டத்தில் தமிழக முஸ்லிம்கள்

பக்கங்கள் : 261

விலை : 120/-

4

Muslims of Tamilnadu in the Indian Freedom Struggle

பக்கங்கள் : 217

விலை : 120/-

5

ஜமால் முகமது கல்லூரி நிறுவனர்கள்

பக்கங்கள் : 235

விலை : 150/-