XEROX Centre
Information to be updated soon
STATIONARY
Information to be updated soon
Internet Browsing Centre
---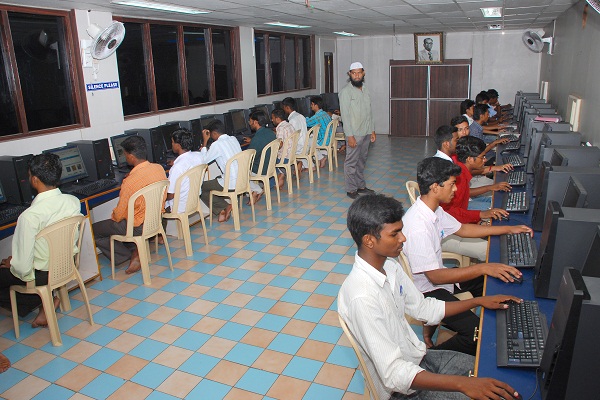 In addition to the internet connectivity provided in all the departments, a separate Internet Browsing Centre is functioning adjacent to the Hussainuddin Hall. Providing with at free of cost at 50 Mbps leased line for students & staff benefits.
GREIVANCE CELL
---
The Grievance Redressal Cell is functioning in the College to deal with matters relating to the redressal of genuine and valid grievances of the students concerning all academic and examination related matters and suggest corrective measures.
A systematic enquiry is made into the written complaint lodged by a student regarding his/her Continuous Internal Assessment or Final Examination marks and suggests appropriate corrective measures are suggested.
A Grievance Letter Box is kept in the General Library for Men and in the Women Library for Women. The letter of grievance may be dropped in the grievance letterbox or it can also be handed over to the Convener of the Grievance Appeal Committee in person.
The letter of grievance should contain the name, roll number, and class of the student and should be duly signed with date.
The Convener shall collect the letters of grievance, number them serially, go through and arrange for the redressal of grievances of the students. He shall report the same in the monthly meeting of Grievance Appeal Committee to be convened on the first Monday of every month. The genuine grievances will be properly redressed.
SCHOLARSHIPS
---
A number of scholarships and concessions are awarded annually to deserving students based on the results of the latest examinations. They are tenable for the period of the entire course on condition that the holders continue to study in the college till the end of their course and that their character, conduct and attendance continue to be satisfactory.
Government and College Sponsored Scholarships will be given to deserving students. Applications for the Government scholarship should be submitted before 15th July or within 15 days Government scholarships is given below.
LIST OF GOVERNMENT & PRIVATE SCHOLARSHIPS:: SC, ST,SC Converted Christians (SCC) :
(Aided, SF Men and Women students Eligible)
Government Post Matric Scholarship
Higher Education Special Scholarship for College Hostel Students
Chief Minister & Prime Minister Awards Scholarship to students who have got 60% of Marks in the First Attempt.
BC MBC DNC:(Aided Students Only)
BC / MBC / DNC Government Scholarship for all UG and PG Courses

No income limit for UG Students
The parental annual income limit to avail BC/MBC/DNC scholarship is Rs. 2.00 lakh for PG students
BC MBC Government Scholarship for MBA and MCA (SF Men and Women students Eligible)
BC / MBC / DNC Government Scholarship for MBA and MCA (Self Finance Mode) students who got admitted through Government Counseling
Minority Scholarship (Muslim, Christians, Buddhists, Sikhs, Paaris)
(Aided, SF Men and Women students Eligible)
Post Matric Scholarship for Minority Communities Students
Merit Cum Means Scholarship : (Aided, SF Men and Women students Eligible)
Merit Cum means Scholarship for MBA, MCA students (Minority Communities Only)
Central Sector Scholarship : (Aided, SF Men and Women students Eligible)
Central Sector Scholarship for UG first year students who got 80% and above marks in previous examinations
UGC Single Child Scholarship: (SF Woment Students only Eligible)
UGC provide Single Girl Child Scholarship for PG first year girls studnets
Eligibility :
Girls students without having any brother or the girls student who are twin daughters / fraternal aughter may also apply for scholarship underthe aforesaid scheme. In a family if one son and one daughter is available then girl child will not be considere for scholarship under the scheme.
ii) Girl students up to the age of 30 years at the time of admission in the PG courses are eligible.
iii) The scheme is applicable to such single girl child who has taken admission in regular, full time first year Masters Degree course in any designated university or a post gradate college. This Scholarship is available to PG-I year student only.
iv) Admission to PG Course in Distance education mode is not covered under the scheme.
General : (Aided, SF Men and Women students Eligible)
Scholarship to Children of BEEDI WORKERS.
Railway Department Scholarship for railway employee son and daughter.
Police Department Scholarship for Police Department Employee son and daughter.
Scholarship for children of ex-service man.
Chief Minister Farmer Scholarship for all students all communities who have farmer ID card form Government.
Scholarship for Differently Abled.
Sitaram Jindhar Scholarship for all students.
Educational Scholarship to childrens of Labourers and Workers.
AICTE Scholarship for MBA Students.
State government Ph.D Research Scholoarship for all communities.
State government Ph.D Research Scholarship for SC, ST communities.
Tamilnadu educational turust scholarship.
UGC Research Scholarships for M.Phil and Ph.D programmes.
Note:
i) Students are eligible for only one of the abouve Scholarships.
ii) All Scholarships and concession are liable for forfeiture for irregularity in attendance, unsatisfactory progress in studies and indiscipline.
iii) Details regarding Scholarship may be had from the college office.
iv) All applications for fee concession and scholarships should reach the office before 31st August of every year.
TRANSPORT
---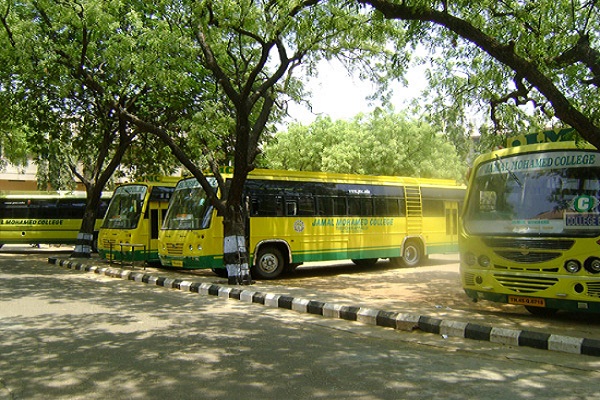 The College provides transport facility for the women students at nominal rates. About 15 college buses help the students to commute to the college from various places in the Tiruchirappalli City. All the buses reach the campus at 01:50 p.m. so that students get ready to attend the classes at 02.00 p.m. The buses leave the campus at 06:30 p.m.
COMMUNICATION LAB
---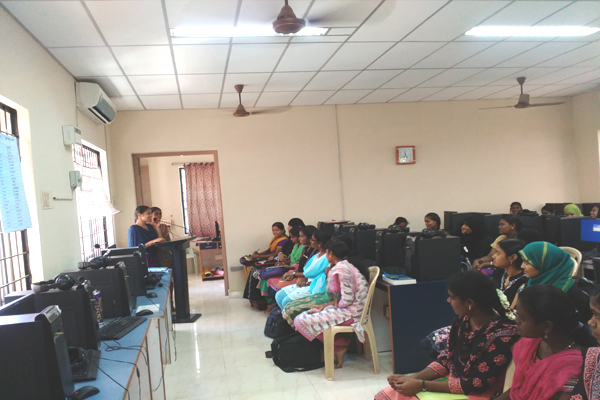 Our college is providing a certificate course on communication skills Communication prepares students for careers in a variety of key areas of the constantly evolving and dynamic I.T industry
Why study this course ?
Over two-third of the worlds scientists read in English
Three quarters of the worlds mail in written in English
80% of the world's electronically stored information is in English
Develop your career :
Most professional jobs require a good level in English- think how impressive "excellent level in English "will look on your CV
Business and commerce are increasingly driven by international trade and if you are going to grow in your job you need to be able to follow this trend
Technical skills are essential in modern industries and you need to be able to both read and write technical English if you are going to maintain your technical competence
About Class :
It's Not A Theory Class
You Are Going To Be Learn Through Computer
You Are Going To Learn Practically
You Will Lose Fear/Shyness/Hesitation
You will Get An Environment To Speak English
More than 300 students completed this course
Most of the students got placed in companies
About Course :
Level -A- Basic
Level -B- Intermediate
Phonetics
Communicative English
Situational conversation
Global communicative English
Error in spoken English
Grammar
Level -C- Advanced English
BBC Current Events
Dialogue (U.S Accents)
Idioms
Phrases
Projects
Handling Telephone Calls
Career Planning
Making C.V
Email Skill
Group Discussion
Debating
Public Speaking
Presentation Skills
Reporting
Soft Skills
IELTS (INTERNATIONAL ENGLISH LANGUAGE TESTING SYSTEM)
TOEFL (TEST OF ENGLISH AS A FORIGN LANGUAGE)
Pronunciation
Vocabulary
Listening practice
Listening and speaking
Exercise
Timing for Girls
| Batches | Timing |
| --- | --- |
| First batch | 9.30 am to 10.30 am |
| Second batch | 10.45 am to 11.45 am |
| Third batch | 12.00 pm to 1.00 pm |
Timing for boys
| Batches | Timing |
| --- | --- |
| First batch | 2.30 pm to 3.30 pm |
| Second batch | 3.30 pm to 4.30 pm |
| Third batch | 4.30 pm to 5.30 pm |
Name of the Co-ordinator : Mr K.N.ABDUL KHADER NIHAL, Assistant Professor & Head of IT, Department of IT
Persons to Contact & In-charge : Dr.Shaik Karimullah, Associate Professor, Department of Hindi
Communication Trainer : Mr. Mohammed Ubada
HEPSN
---
Enabling Unit for Differently-abled Persons (HEPSN)
The Enabling Unit for Differently-abled Persons(HEPSN) scheme, supported by the UGC, was established in the year 2010 in accordance with the Person with Disabilities Act of 1995.
Objectives of HEPSN :
To provide equal educational opportunities to Differently-abled person
To provide access and special educational needs to Differently-abled person
To provide special assistive devices for learning
To create awareness through councelling
To ensure admission of as many Differently-abled students as possible through the open and reservation quota
To conduct awareness programmes for teachers about the approaches to teach Differently-abled person
To celebrate important days pertaining to disability
To remove architectural barriers
In the academic year of 2011-12, our college has admitted more than 40 differently-abled students in various Under Graduate and Post Graduate courses.
Name of the Co-ordinator :
Prof T.Umar Sadiq, Assistant Professor, Department of History.