Photo Copying Centre
Information to be updated soon
STATIONARY
---
Student Co-operative Store is maintained for supplying study materials at subsidized prices.
Internet Browsing Centre
---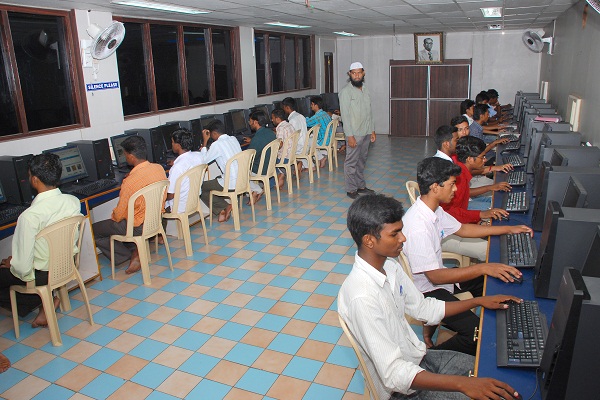 In addition to the internet connectivity provided in all the departments, a separate Internet Browsing Centre is functioning adjacent to the Hussainuddin Hall. Providing with at free of cost at 50 Mbps leased line for students & staff benefits.
Free Wifi
Information to be updated soon
SCHOLARSHIPS
---
A number of scholarships and concessions are awarded annually to deserving students based on the results of the latest examinations. They are tenable for the period of the entire course on condition that the holders continue to study in the college till the end of their course and that their character, conduct and attendance continue to be satisfactory.
Government and College Sponsored Scholarships will be given to deserving students. Applications for the Government scholarship should be submitted before 15th July or within 15 days Government scholarships is given below.
LIST OF GOVERNMENT & PRIVATE SCHOLARSHIPS:: SC, ST,SC Converted Christians (SCC) :
(Aided, SF Men and Women students Eligible)
Government Post Matric Scholarship
Higher Education Special Scholarship for College Hostel Students
Chief Minister & Prime Minister Awards Scholarship to students who have got 60% of Marks in the First Attempt.
BC MBC DNC:(Aided Students Only)
BC / MBC / DNC Government Scholarship for all UG and PG Courses

No income limit for UG Students
The parental annual income limit to avail BC/MBC/DNC scholarship is Rs. 2.00 lakh for PG students
BC MBC Government Scholarship for MBA and MCA (SF Men and Women students Eligible)
BC / MBC / DNC Government Scholarship for MBA and MCA (Self Finance Mode) students who got admitted through Government Counseling
Minority Scholarship (Muslim, Christians, Buddhists, Sikhs, Paaris)
(Aided, SF Men and Women students Eligible)
Post Matric Scholarship for Minority Communities Students
Merit Cum Means Scholarship : (Aided, SF Men and Women students Eligible)
Merit Cum means Scholarship for MBA, MCA students (Minority Communities Only)
Central Sector Scholarship : (Aided, SF Men and Women students Eligible)
Central Sector Scholarship for UG first year students who got 80% and above marks in previous examinations
UGC Single Child Scholarship: (SF Woment Students only Eligible)
UGC provide Single Girl Child Scholarship for PG first year girls studnets
Eligibility :
Girls students without having any brother or the girls student who are twin daughters / fraternal daughter may also apply for scholarship underthe aforesaid scheme. In a family if one son and one daughter is available then girl child will not be considere for scholarship under the scheme.
ii) Girl students up to the age of 30 years at the time of admission in the PG courses are eligible.
iii) The scheme is applicable to such single girl child who has taken admission in regular, full time first year Masters Degree course in any designated university or a post gradate college. This Scholarship is available to PG-I year student only.
iv) Admission to PG Course in Distance education mode is not covered under the scheme.
General : (Aided, SF Men and Women students Eligible)
Scholarship to Children of BEEDI WORKERS.
Railway Department Scholarship for railway employee son and daughter.
Police Department Scholarship for Police Department Employee son and daughter.
Scholarship for children of ex-service man.
Chief Minister Farmer Scholarship for all students all communities who have farmer ID card form Government.
Scholarship for Differently Abled.
Sitaram Jindhar Scholarship for all students.
Educational Scholarship to childrens of Labourers and Workers.
AICTE Scholarship for MBA Students.
State government Ph.D Research Scholoarship for all communities.
State government Ph.D Research Scholarship for SC, ST communities.
Tamilnadu educational turust scholarship.
UGC Research Scholarships for M.Phil and Ph.D programmes.
Note:
i) Students are eligible for only one of the abouve Scholarships.
ii) All Scholarships and concession are liable for forfeiture for irregularity in attendance, unsatisfactory progress in studies and indiscipline.
iii) Details regarding Scholarship may be had from the college office.
iv) All applications for fee concession and scholarships should reach the office before 31st August of every year.