GENERAL LIBRARY
---
The college has a modern general library with a robust collection of over 181115 volumes of books in 51917 titles on many disciplines covering all major fields of Science, Humanities, and Management. Besides the general library, each department has its own library, containing a major portion of the collection of books. The Library subscribes to about 288 periodicals which include national & international journals, and magazines subscribed by various departments. Many English, Tamil and Malayalam daily newspapers are also subscribed for the enlightenment of both staff and students.
The working methodology of Library such as acquisition of books, circulation control, cataloguing and serials control have been automated using an integrated software. Open access system is implemented in the library.
A modern digital library network with a high speed internet access is also housed in the premises. Reprographic facilities with printer & CD writer are made available for the beneficiaries. Separate sections for Reference Material, Book Bank, Periodicals, and Project Reports are provided for easy access.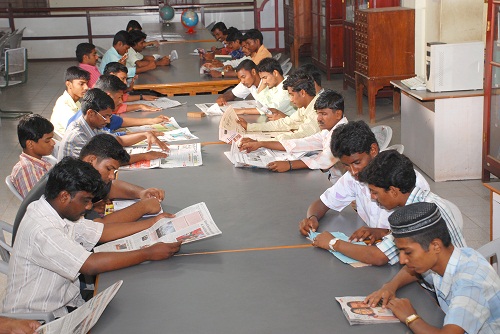 Library Information
| Particulars | Quantity |
| --- | --- |
| No. of Volumes in the General Library | 35540 |
| No. of Titles in the General Library | 9058 |
| No. of Volumes in the Department Libraries | 145575 |
| No. of Titles in the Department Libraries | 42859 |
| No. of National Journals | 123 |
| No. of International Journals | 48 |
| No. of Tamil Newspapers | 11 |
| No. of English Newspapers | 6 |
| No. of Malayalam Newspapers | 2 |
| No. of Tamil Magazines | 44 |
| No. of English Magazines | 72 |
| No. of Malayalam Magazines | 1 |
| No. of Back Volumes of Journals | 7500 |
| No. of Books in the Book Bank | 3000 |
Books in the Department Library
Sl. No.
Department
Volumes
Titles
1
GENERAL LIBRARY
35540
9058
2
ARABIC
5486
1382
3
BOTANY
5090
1359
4
BIODIVERSITY
49
48
5
BIOINFORMATICS
358
250
6
BIOTECHNOLOGY
767
607
7
CHEMISTRY
7360
2105
8
CIVIL SERVICE STUDY CENTRE
114
110
9
COMMERCE
18501
2996
10
COMPUTER SCIENCE
11754
3033
11
DEENIYATH
3
3
12
ECONOMICS
9837
1104
13
EDUCATION
352
281
14
ENGLISH
15411
3714
15
FASHION TECHNOLOGY
166
133
16
HOTEL MANAGEMENT
247
104
17
HISTORY
4949
2050
18
INFORMATION TECHNOLOGY
2032
451
19
MATHEMATICS
13055
2675
20
MBA
14582
9553
21
MCA
1237
240
22
MICROBIOLOGY
413
332
23
NUTRITION & DIETETICS
559
442
24
PHYSICS
8257
1924
25
SOCIAL WORK
529
299
26
TAMIL
18625
5768
27
VISUAL COMMUNICATION
161
143
28
ZOOLOGY
5681
1753
GRAND TOTAL
181115
51917
Library Working Hours
| Day(s) | Working Hours |
| --- | --- |
| On Working Days | 08.30 a.m To 06.30 p.m |
| On Holidays (Except Sunday, Govt.Holidays) | 09.30 a.m To 04.00 p.m |
Rules & Regulations

All the students of the College are the members of the library.
All the students can be access the books in Open Access System.
Students are entitled, subject to the rules herein mentioned, to keep a book for a fortnight from the date of issue. If the book is not returned on or before the due date, a fine of Re.1 per day including holidays will be levied. The student will not be allowed to use the library till fine is paid and the book returned. Books due on holidays may be returned without fine on the working day immediately following the holidays. Books borrowed for the vacation should be returned within three working days after the reopening of the college. Otherwise the usual fine will collected.
No one is allowed to sub-lend the books taken out by him.
On receiving a book, Students must examine and report to the Librarian any damage found therein. Otherwise they will be held responsible for any damage that may be detected afterwards.
A book returned to the Library should contain a return slip showing the roll number of the student returning and the catalogue number of the books.
Absence from the college will not ordinarily be admitted as an excuse for delay in the return of the books.
All payments including fine towards the library shall be paid at the college office and the receipt must be shown to the librarian.
The Librarian may recall any book at any time.
Strict silence should be observed in the reading room.
Without previous notice, Students may call for books which are marked "Reference" or a "Periodical" for consultation which will not be lent out.
All Foreign and Indian Magazines and Newspapers will be displayed for perusal in the reading room.

LINKS OF ACCESS TO E-RESOURCES
JAMAL MOHAMED COLLEGE - MOSQUE
Information to be updated soon
PRAYER HALL FOR MEN
Information to be updated soon
PRAYER HALL FOR MEN
Information to be updated soon
THE KHAJAMIAN HOSTEL (FOR MEN)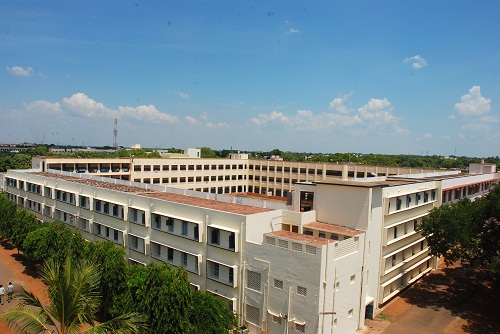 The Khajamian hostel is one of the biggest hostels in Tamil Nadu. The hostel has 8 blocks and can accommodate about 2200 students. Visitors' Room, Library, Reading Room, Television Room, Prayer Hall, Auditorium, Multipurpose Hall, Guest House, Internet Browsing Centre, Play Ground, Canteen, Water Coolers, Generators and Public Address System are the other facilities provided in the hostel.
The hostel provides 6 messes, each with a dining hall and modern kitchen facilities. Wholesome Non-Vegetarian and Vegetarian food is served in the hostel messes on dividing system. Committees including student representatives manage the messes. We expect the students and parents to understand and appreciate the difficulties involved in running a mess for a big group of students.
Admission
Admission to the hostel shall be sought only after obtaining admission into a course in the college. Application for admission to the hostel shall be made in the prescribed form. Every student before he is admitted to the hostel must give an undertaking in writing that he will submit himself to any rules & regulations imposed by authorities. This shall be endorsed by the parent / guardian also in the attached declaration form.
At the time of admission, the applicant should remit the prescribed hostel fee in full.
Rules & Regulations :
Strict Discipline should be maintained in the Hostel.
Silence should be maintained during the silence hours (06.30 p.m. to 06.30 a.m.) and compulsory study hours (08.45 p.m. to 10.00 p.m.). No student is permitted to loiter along the corridor during the study hours. Violation of this rule will be viewed seriously.
Every student holds the responsibility to keep their rooms neat and tidy.
Smoking is strictly prohibited in the hostel campus.
Hostel common properties are meant for common use and taking them for personal or group use is not entertained.
No student is permitted to stay back in the hostel during the class hours without the permission of the warden.
The warden should be kept informed of the sick students in the room to provide them with the necessary medical assistance and constant monitoring.
Complaints should be addressed to the faculty allotted and solutions should be drawn with the concern of the respective faculty.
Students are advised not to possess mobile phone. If found using in common places and during study hours or on complaint from other students, strict disciplinary action will be taken.
Every student should submit a separate permission letter to go home and they should sign in the movement register. Failure to adhere to this rule will be considered seriously.
Ragging is strictly prohibited. Inmates found involved in ragging will be sent out from both the hostel and college immediately.
Muslim inmates must attend daily prayers, Deeniyath classes and observe fasting during Ramzan.
Admission to the hostel in the consecutive years of the degree course will be made, only on the basis of the student's academic performance, discipline and leave history.
Administration
The Principal of the college is the warden of the hostel. The hostel is managed and monitored by the Directors and Co-ordinator with the help of deputy wardens and sub-wardens. The hostel office consisting of Hostel Manager and other supporting staff looks after the day-to-day operations of the messes.
| | | | |
| --- | --- | --- | --- |
| S.No | Name | Designation | Mobile No. |
| 1. | Dr. S. Ismail Mohideen | Principal | 9894113582 |
| 2. | Dr. K.N. Mohamed Fazil | Director | 9944546413 |
| 3. | Mr. M.A. Jamal Mohamed Yaseen Zubeir | Director | 9994494493 |
| 4. | Dr. P.N.P. Mohamed Sahaputheen | Director | 9443272683 |
| 5. | M. Syed Ali Padusha | Co-ordinator | 9865447289 |
| 6. | Dr. A.Mohamed Ismail | Deputy Warden | 9443219535 |
| 7. | Dr. M. Abdul Hakkeem | Deputy Warden | 9443183247 |
| 8. | Mr. S.Sheik Ismail | Deputy Warden | 9443183667 |
| 9. | Mr. K.A. Abbas Manthir | Deputy Warden | 9865114999 |
| 10. | Dr. S. Nagoor Gani | Deputy Warden | 9443926560 |
| 11. | Dr. A. Zahir Hussain | Deputy Warden | 9865517744 |
| 12. | Mr. S. Sheik Dhavud | Deputy Warden | -- |
THE WOMEN HOSTEL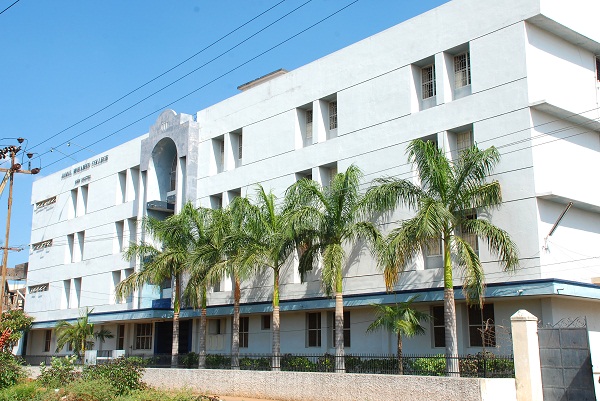 Post Graduate New Hostel
The Post Graduate New Hostel for women presently accommodates around 1180 students. The college management is helping 35 economically poor but meritorious students by providing free lodging and boarding facilities in the hostel. They have also introduced an 'Earn while Learn' scheme, in which, a few financially challenged students are given an opportunity to work in the hostel with appropriate remuneration. About 19 students are being benefited by this scheme.
Administration
| S.No | Name | Designation | Mobile No. |
| --- | --- | --- | --- |
| 1. | Dr. S. Ismail Mohideen | Principal & Warden | 9894113582 |
| 2. | Mr. K.N. Mohamed Fazil | Director | 9944546413 |
| 3. | Mr. M.A. Jamal Mohamed Yaseen Zubeir | Director | 9994494493 |
| 4. | Dr. A. Mohamed Ismail | Deputy Warden | 9442049533 |
UGC-Women Hostel
This hostel is built with the grant from the University Grants Commission for the deserving students. There are 16 rooms which can accommodate 102 inmates. A new floor in Kulsum Beevi block was opened in 2011. It contains 10 rooms for accommodating 80 students.
Facilities
A counter of Karur Vysya Bank in the hostel premises for the payment of hostel and mess fees.
A computer centre with internet facility.
Xerox copier facility.
A well-equipped library with more than 2000 volumes.
A telephone booth with STD and ISD facilities.
A spacious prayer hall.
A canteen
A excellent auditorium with a seating capacity of 200 students where all the functions and programmes are conducted.
Three LCD televisions
A bio-gas plant that has the capacity of supplying 7 cylinders of gas per month.
A fully furnished guest house in the hostel premises.
A sanitary disposal plant
Three generators
Water coolers and water heaters are provided in all the blocks.
Deeniyath Diploma Course
The MUBALLIGA diploma in deeniyath education, is conducted in the hostel for the benefit of the Muslim students between 10.00 a.m. and 12.30 p.m. for acquiring the knowledge of Quran, and Hadhees. The Convocation for this diploma was conducted in which around 60 students received the Muballiga certificates.
Clubs and Associations
The following clubs and association are functioning in the hostel premises:
Leo Club
Rotaract Club
Anti Dowry Association
Other Activities
Meelad day celebrations
Special arrangements for Sahar and Iftar during the month of Ramadhan
A Special Iftar function
Debates, quiz programmes, essay writing, slogan writing, poem writing, drawing, elocution, mehandi, hair style making, collage
Visits to orphanages, old age homes, blind and rehabilitation centers
Games such as ball badminton, chess, carom, shuttle cork, throw ball and ring ball.
CAFETERIA
Information to be updated soon
GUIDANCE & COUNSELLING
---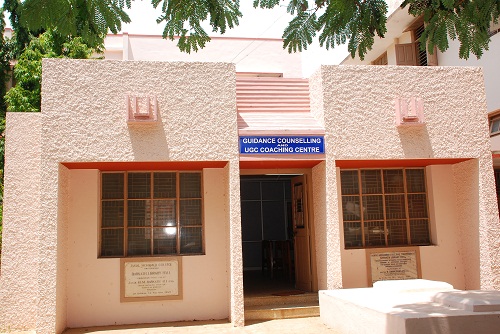 Course Guidance Programmes
This is a usual feature of the centre. Courses in Arts, Science and Humanities are exhibited to the students studying in our college. However, the following course guidance is offered:
Higher studies after graduation in Indian Universities
Higher studies after graduation in Indian Universities like Delhi University, Jawaharlal Nehru University, Hamdard University, Banaras Hindu University, Jamia Millia University, etc.,
Higher studies after graduation in Foreign Universities in U.K., U.S.A., Australia, Singapore, etc.,
Research position in Institutes and Universities.
Career Planning Programmes:
After completion of graduation / post-graduation, the students should be given information about their career planning. The following schemes are highlighted through career planning programmes:
TNPSC Group I service.
Subordinate services in State Government offices.
Staff Selection Services like clerical Grade, Income Tax, Customs Duty Inspectors etc.,
Banking Services.
Railway Services.
Insurance Companies Services.
Tamil Nadu Police Services.
Communication - Skill Development:
The success of entering into a profession or job or Higher Education requires the possession of various communication skills. Programmes are organised to develop the following communicative skills among the students:
Spoken English Classes.
English Grammar Classes.
English for Competitive Examinations.
Remedial classes for students having Arrears, especially in languages.
Personality Development:
To develop various dimensions of personality of students undergoing different UG and PG courses, Personality Development Programmes are offered by the centre. The following programmes are conducted generally:
Memory Building
Goal Setting
Be effective and successful
Self-concept
Interpersonal Communication-Transactional analysis
Positioning
Etiquette
Occupational Diseases
Mass Counseling
Esteem Building
Physiological Counseling:
Apart from developing personality of the students, there is a need to arrange psychological counseling to the depressed and problem oriented students. The centre offers both types of programmes:
Mass Psychological counseling
Individual (one-to-one) psychological counseling
Campus Training:
The Guidance and counseling centre has been a place of selection and training of candidates for the posts of Accountants, Clerks, Personnel Managers recruited by ET-ASCON, Dubai. The candidates have been selected it and outside the college, and trained for more than 6 months in the college. The performance of the trainees in checked, evaluated and measures are taken to improve their performance. After training, they were absorbed by the sponsoring agencies.
Campus Recruitment:
Campus Recruitment is one of the desired services of the students community. Different kinds of recruiting agencies have been visiting our college, nationally and internationally for the purpose of recruiting qualified and suitable candidates from the students of Jamal Organizations engaged in information technology, Medical Transcription, Cellular services, Electrical appliances, Chemical industry and others, visit our institution. This is done apart from the preparation of students for various subordinate services through the coaching centre. Every year 5 to 10 percent of the total students are recruited from the college. Thus, the recruitment is a routine programme of our college. Our college is also a learning centre for people employed in government departments like District Employment Exchange, Taluk office, Coelenterate etc., for equipping computer oriented skills.
Leadership Qualities:
The centre is taking efforts to develop leadership qualities of the students in the campus. Experts in leadership development are invited often to breed the qualities among the student. They are asked to organize programmes with AIR, Vijay TV and other private channels to design, conduct programmes relating programmes relating to career guidance and course guidance in and outside the college.
Co-ordinator:-
Dr.Shaik Karimullah,Associate Professor, Department of Hindi
Member in-charge:-
DAY CARE CENTRE
---
Neat and Clean Environment
Age Limit ( 1 to 3 years)
Safe and Playable Environment
Three dedicated Staff
Main Special function in providing mother room for feeding
Special care is given to each and every individual kid